Previous clients with horses that bought or sold property
Success Stories
Read what others are saying about Equestrian Real Estate Agent Catherine Ulrey
"I finally am realizing my two lifetime dreams:  To own a house and to own a horse!  People in "the horse circle" recommended Catherine to me.  She was kind and patient, and she provided invaluable help, not only by finding places to see, but also by explaining the "horse" aspects of the properties -- the pros, the cons and even the "how to's."  Because I am a first-time home buyer and a first time horse owner, I have greatly appreciated Catherine's extra effort and information.  She went above and beyond the  "real estate" side of the move!" -Robin
"We have worked with other agents in the past.  When I told Catherine we wanted to find land to eventually build on, she quickly sent me several options suitable for horses.  It didn't take long to find a great piece of property with AMAZING views at $40,000 less than list price!"  -Tricia
"Catherine helped us sell our house in town to simultaneously purchase horse-friendly property with a great 2-stall barn a few miles South of Salem.  She took care of many of the details, because while our current house and the new one were both in escrow, we were in Germany for 3 weeks!" - Ron and Priscilla
 "We were on a budget when we decided to rent our house in town and move to the country.  Catherine was great at presenting several options for us in our price range without trying to sell us something we couldn't  afford." - Tiffany
"I was very fortunate to have met Catherine on a horse-camping trip a couple of summers ago.  She was so warm and friendly and genuine that when I decided to buy a home in early 2010, she came immediately to mind as the person I'd want to assist me in this important endeavor.  I am someone who doesn't like to be pressured and I am big on quick responses to questions and the ability to see new properties quickly.  Catherine was the perfect choice for me--I never felt pressured to make a decision or provide her with feedback on the properties we saw and whenever I wanted to see a new property, she made herself available to show it as soon as possible.  She was also very accommodating in terms of re-showing properties when I wanted my family members to be able to see places we'd already seen.  In short, she was patient, honest, knowledgeable and unflinchingly ethical in our transactions.  If I asked her for something, she provided it without delay. It was the least painful real estate transaction I've ever had.  She got me into the perfect home; if I ever decide to sell, she'll be my first choice to assist me with the sale and a new purchase, if it's in this area. I would recommend her without reservation. Thank you again for your help, Catherine..."? - Kathleen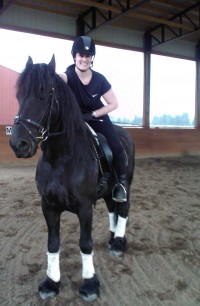 Finding the perfect property for animals takes time and knowledge. Catherine gave us both as we looked at house after house. After a lot of negotiation, with multiple lots, a busy seller, and another bidder, Catherine got us the perfect property. We've since used her for two in-town purchases!
Catherine came recommended to us by a friend who's property she had sold. We were not disappointed Catherine did a fantastic job for us and we have already recommended her to others. I could sum up our experience with her in three words: Professional, Knowledgeable, and Ethical with the added bonus of being very nice to work with. Thank you Catherine
We had never moved across states before and were new to horse properties as well. Catherine met with us twice and was so helpful in letting us know what properties would and would not work for horses. When a listing came up just before we were to leave town, Catherine scheduled a showing and met us on our way to the airport and it turned out to be the one! There were a few issues that arose during the process which is as to be expected, but since we were out of state, it was such a relief knowing that Catherine was taking care of our interests on her end. She made sure that everything was resolved and that the closing went without a hitch. I cannot recommend her highly enough as she is such a professional and truly caring person with a great deal of knowledge that made this endeavor of ours such a pleasant one!
Hard Working, Honest are the first two things that come to my mind when I think about Catherine and our experience with her as a real estate agent. We had decided several years ago to move to Arizona from Oregon when Jack was ready to retire. When it came time to put our house and property on the market we contacted a couple real estate agents we knew and Catherine was the first choice. During our first meeting she listened attentively as we explained our time frame and what we needed for a selling price on the house. She spent the time to go through the house, yard and outbuildings to give us suggestions on what to do and not to do to get the house ready to sell. Within a couple weeks the sign was up. As a person Catherine is such a pleasure to work with! Easy to talk to, listens to what you have to say, easy to contact and always returning calls with an answer no matter how small the questions. Catherine offered us an objective outlook on our house and was able to help us walk through each offer as they came in until we decided on one that was right for us. She was there from paperwork, adjustments to pictures and advertising, to locking up dogs when needed. Catherine never quit selling our house Once the house was in escrow Catherine spent the extra time to follow up on all inspections, reports and walk us through what all the various paperwork meant. She made selling our house painless, and I can't recommend her enough to anyone buying or selling their home or property.